William Johnson Family
William M. Johnson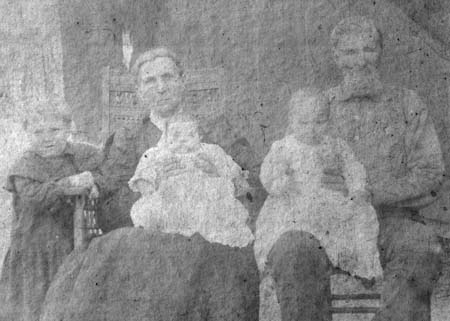 Bettie and Bill Johnson with grandchildren Wes
Moore, Vesta Squyres, and Lizzie Moore
William M. (Bill) Johnson (1835-????) was born in Georgia. a son of Benjamin F. and Miraby Johnson. The Johnsons moved to Simpson Co., Mississippi after 1850. Bill Johnson served in the Civil War and was wounded at the Second Battle of Manassas (Bull Run).
Bill had a violent temper, and after the War he killed a man who had attacked and nearly killed his father. He was forced to flee to Florida, leaving a wife and several children in Mississippi. In Florida he married Bettie Johnson, apparently without benefit of a divorce from his first wife. By 1875 things had cooled off enough in Mississippi that the Johnsons moved to Clarke Co., Mississippi, where the apparently became acquainted with the McCalls .
The Johnsons followed other Clarke County families to Angelina County. It is not clear whether they moved directly to Burke since at various times they lived in Nacogdoches Co,., Johnson Co., near Alvarado, and DeSoto Parish Louisiana. However, by 1900 they were living at Burke and remained there the rest of their lives. Both Bill and Bettie are buried at Ryan Chapel Cemetery.
Bill and Bettie had the following children:
John Edgar, who married Ella Stanaland and whose daughter Mattie married Charlie Smith and lived south of Burke on old Texas 34. Her son Leroy married Bettie Jo Rush, daughter of Zusel and Tellie Rush.
Emma Lucinda (1875-1961)
William Steve (Bill) (1877-1951) who married first Fabia Shivers and then Annie Jones and lived for many years in Kaufman and Rains Counties, before his death at his home on FM 58 north of Fairview.
Annie (1880-????), who married Bill Moore and lived at Burke for a time before moving to Ellis and later Dallas County.
Berry (1882), who married Addie Waller and then Dell Burrous. Berry lived at Burke during his early adulthood before moving to a home on FM 58 north of Fairview where he lived the rest of his life..
Arzy (1889), who married Sterling Squyres and raised a large family at Beulah.
Emma Lucinda Johnson
Emma Johnson (1875-1961) was born in Clarke County, Mississippi. She moved with her parents to Texas about 1880, and in the early 1890s she lived with them at Alvarado in Johnson County. It was at Alvarado that she met Charlie Baker, or perhaps Brown. It is unclear whether they were married or just engaged to be married when Bill Johnson decided to move to Louisiana and insisted that Emma moved with the family. According to Tellie Arrington Rush, Charlie visited Emma a Burke when she was married to Mr. Arrington and asked for return of his rings. Emma kept a photo of Charlie in her sewing box for the remainder of her life. Clearly he was the lost love of her life.
Emma next married Arthur Arrington. After Arthur's death in 1916 Emma married Hiram Sanford. After his death she married a Daniel, but that marriage ended in divorce. She lived the rest of her life with son Frank and was known as Emma Sanford. It is said that she traveled and "stayed with" women when they had their babies, leading to the assumption that she was a midwife.
Franklin John Johnson
Frank Johnson (1893-1964) was born at Marthasville, DeSoto Parish, Louisiana. He moved to Burke and grew up there spending much of his youth with his grandparents, Bill and Bettie Johnson. Frank married Florence Ophelia Largent, daughter of Mack Largent, and they lived near Burke most of their lives. They had the following children:
Chester Lamar, who married Alice Henrietta Murrah, brother of Elroy Murrah.
Ina Gertrude (1924-1988), who was named for Miss Ina McCall. In 1940 she married Earvin ElroyMurrah, and they had one son, Macka Lee, the author of this web site.
Sources:
1860 Census, Simpson Co., Mississippi, Fourth Beat, Page 21, Dwelling 137 (Benjamin Johnson)
1900 Census, Angelina Co., Texas, Precinct 4, Dwelling 81 (William Johnson)