Arrington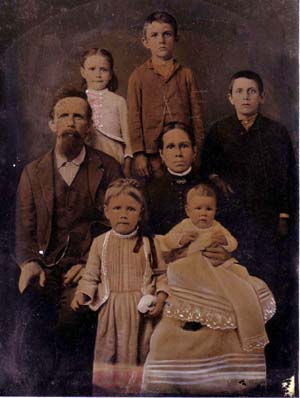 Arthur and Clara Crager Arrington
and family.
William James Arrington
William James Arrington and wife Sarah (Sallie) McCarty Arrington moved to Angelina County from Clarke County, Mississippi shortly before 1870 (he is listed as a "newcomer" in the census). He was the son of Arthur and Milly Ann Arrington.He was born about 1810 in South Carolina and Sarah about 1815 in South Carolina. William resided with his son Arthur in 1880.
Their children included:
Katharine, born 1831 in Mississippi
Lavenia, born 1833 in Mississippi
Jehial B., born 1835 in Mississippi
Sterling James, born 1836 in Mississippi
Sarah, born 1838 in Mississippi
Mary A., born 1840 in Mississippi
Arthur, born 1846 in Mississippi
Eunicy Nicey (unconfirmed)
William Larkin, born 1851 in Mississippi, who married Nancy Smith
Jehial Arrington
Jehial Arrington and wife Tibitha had the following children:
William (1860)
Jehial E. (1863)
Orange A. (1872)
Perry B. (1876)
Arthur Arrington
A veteran of the Civil War, Arthur Arrington moved to Angelina County from Clarke County, Mississippi. While living in Burke he ran a drug store across the street from the old post office. After the death of his first wife, he married Emma Johnson Brown, the great-grandmother of the author.
Arthur and Clara had the following children:
Berry (1875), who married Evie Skillen
Albert (1877)
Rusha
Floyd, who married Maggie Glass
Neva
Martha Cora, who married Jim Keen
Tellie M., who married Zusle Rush
Arthur "Artie"
Sterling James Arrington
Sterling James Arrington and wife Nancy Evans Arrington donated the land for Bradley Prairie (later Burke) School, and his brother Arthur was one of its founders.
William Larkin Arrington
William Larkin Arrington married Nancy Smith, daughter of Jeptha Smith. They had the following children:
Mary (1878)
Minna (1880)
Maud Rhoda, who married Robert Earl Kellow
Sources:
1850 Census, Clarke County, Mississippi, Page 17, Beat 5, Dwelling 511 (William)
1870 Census, Angelina County, Texas, Page 53, Dwelling (William)
1870 Census, Angelina County, Texas, Page 54, Dwelling (Jehiel)
1870 Census, Angelina County, Texas, Page 50, Dwelling 43 (Sterling)
1880 Census, Angelina County, Texas, Precinct 1, Page 12, Dwelling 106 (Larkin Arrington)
1880 Census, Angelina County, Texas, Precinct 1, Page 14, Dwelling 119 (Arther Arrington)
1880 Census, Angelina County, Texas, Precinct 1, Page 13, Dwelling 112 (Jehial Arrington)
1900 Census, Angelina County
Orders Establishing School Communities, Angelina County, Texas
M. Lee Murrah, Personal Recollections