Rush Family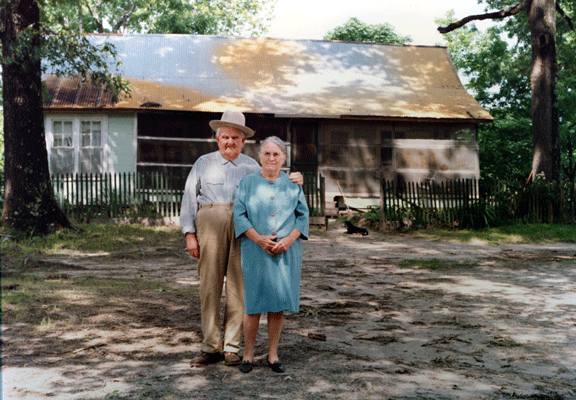 Zusle "Dutch" and Tellie Rush in front of their home ca. 1970
The Rush family lived in a large Texas style house northwest of Burke. Zusle (Dutch) Rush (1884-1978) married Tellie Arrington (1889), daughter of Burke pioneer Arthur Arrington, and they had the following children:
Flossie (1910), who married Hillery Thigpen
Marguerite (1911), who married Carl Brown
Leola (1914), who married a Thompson
Catherine (1918), who married Woodrow Lee
Zusle, Jr. (1924), who later became mayor of Burke
Allen (Buddy) (1926)
The Rushes lived in Angelina County in 1910-1930.
Allen Rush
Zusle's parents were Allen Rush (1856) and Ella Renfro Rush (1864). Ella was the daughter of Isaac Renfro, an early settler at Renfro prairie and sister of Lucy Treadwell. Allen died when Zusle was only about two years old, and Ella married Andrew J. Vinson. In the 1900 census Zusle and sister Addie are shown as "step-son" and"step-daughter" of Andrew Vinson.
Thomas B. Rush
Allen's parents, Thomas B. and Carolina A. Rush , arrived in Texas from Alabama between 1848 and 1850. About 1855 Thomas Rush died. In 1860 Carolina A. Rush (1813) headed a household in Angelina County with the following children:
Laura F. (1839)
Calvin (1842)
Thomas, Jr. (1847)
Charles (1848),
Eugenia (1849)
William (1850)
Frances M. (1852)
Allen W. (1856)
In 1870 Allen was living with the family of Laura McAnelly at Homer. His brother Charles and wife lived with the Manning family next door.
According to Alabama land records, Thomas B. Rush purchased land through the Cahaba land office in 1837 and 1843.
Sources:
Ancestry.com, Alabama Land Records, Thomas B. Rush
1860 Census, Angelina County, Fourth District, Page 1 (Carolina A. Rush)

1870 Census, Angelina County, Homer, Page 1, Dwelling 5 (Laura McAnelly/Alen Rush)
1900 Census, Angelina County, Precinct 1, Page 10, Dwelling 468 (Andrew J. Vinson/Zusle Rush)
1910 Census, Angelina County, Precinct 4, Page 10, Dwelling 90 (Zusle Rush)
1920 Census, Angelina County, Precinct 4, Page 28, Dwelling 307 (Zusle Rush)
1930 Census, Angelina County, Precinct 4, Page 8, (Zusle Rush)
M. Lee Murrah, Personal Recollections