Murrah Family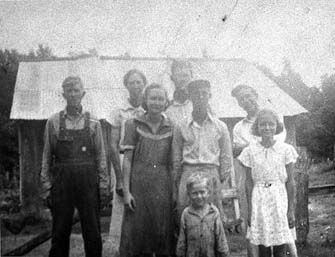 The Murrah family about 1940
Back Row: Virgil, Hester, Chester.
Middle Row: Alice, Hubert, Elroy.
Front Row: Charles, Louise
Origins of Murrah Family
The Murrah family is likely of Scots origin and probably emigrated to Virginia in the 17th or 18th Century from the English side of the Scots border region.
The first know ancestor of the family is Lodowick Murrah of Caroline County, Virginia. Several of his sons emigrated to Edgefield County, South Carolina late in the 19th Century.
David Morgan Murrah, who was born in Georgia in 1821, was probably a grandson of one of these brothers.
Samuel Becton (Boss) Murrah
Originally from Copiah County, Mississippi Samuel Becton Murrah moved to San Jacinto and then Walker County, Texas with his father David Morgan Murrah. Samuel, married Henrietta Wilson, and they lived for a time at Dodge. Samuel was also known as "Boss", perhaps stemming from a reputed stint as a prison guard.
The Murrahs followed the sawmills, moving to Trinity County and finally to Angelina County. Initially they lived north of Diboll just east of what is now Highway 59 on land later owned by the Clark family. They then bought a farm north of Ryan Chapel near land later owned by Cudger Bounds. They eventually moved to Lufkin, where they both lived until their death.
Samuel Virgil Murrah
Boss and Henny's son Virgil married Hester Forsythe, a descendant of the Ashworths and Jonshons of Pine Valley, and they lived at various places in around Burke, including Pine Valley and Boles. They eventually settled north of Burke and lived the rest of their lives there. Hester's parents were William D. (WIll) and Sarah Alice Landrum Forsythe, who in 1900 lived near Ryan Chapel.
The Murrahs were tenant farmers, although Virgil at times worked sawmill jobs. As the family group photograph above attests, the Murrahs were like many at Burke at the time a poor but hardworking farm family.
Earvin Elroy Murrah
Virgil and Hester's son Elroy was born at Burke, and he married Gertrude Johnson, daugther of Frank and Florence Largent Johnson, and step-great-grandaughter of early Burke resident Arthur Arrington. They lived on rental farms around Burke, renting from Inal McCall, Sallie Treadwell Pigford, Mrs. I. D. Fairchild, and Bob Weisinger. They eventually purchased a farm from Gertrude's father Frank Johnson and adjoining property from Owen Rose. The spent the remainder of their lives there.
Their son Macka Lee is the author of this web site.

Sources:
1920 Census, Angelina County, Precinct 4, Page 2, Dweling 15 (Sam Murrah)
M. Lee Murrah, Personal Recollections