Landrum Family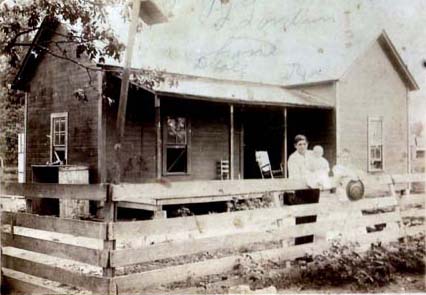 Patrick and Burnadeen Landrum with daughter Rosa.
Maston (Shrimp) Landrum came to Burke shortly after the Civil War from Jones County, Mississippi and settled at Burke. Jones County was known as the home of many dissidents against the Confederacy. Maston's father Linson Landrum served in the Confederate Army but was "captured" and quickly took the loyatly oath. He traveled back to New Orleans where it is said he joined the Union Army shortly before dying in a fever epidemic that struck the area. It is therefore curious that his son Maston settled in the only Texas county that voted against secession. Maston's mother remarried a Shoemake and moved to Nacogdoches County.
Maston married Mary Jane Johnson, daughter of cattle pioneer Patrick Johnson and his wife Vinie Ashworth. Vinie was a daughter of pioneer Pine Valley cattleman James Ashworth. The Landrums lived for a time in Rains County, but they both died at Pine Valley and are buried at Ryan Chapel Cemetery. The Landrums, Johnsons, and Ashworths were early members of Ryan Chapel Methodist Church.
Pat Landrum lived in the Burke-Diboll area early in his life and eventually moved to Trinity County.
Sources:
M. Lee Murrah, Personal genealogical research