Ashworth Family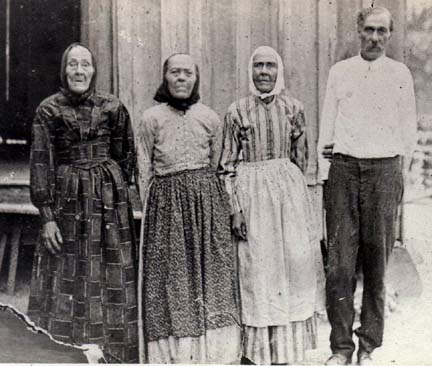 Ashworth siblings (l-r): Keziah, Hester, Louisa, and
Joshua, children of James and Polly Perkins Ashworth
James J. Ashworth and wife Mary (Polly) Perkins Ashworth moved to the Pine Valley area from Calcasieu Parish, Louisiana in the late 1840s along with son-in-law Patrick Johnson. The Ashworths, Dials,and Johnsons ran cattle in Angelina and Trinity (then Houston) Counties.
The Redbones of South Carolina and Louisiana
The Ashworths and the Johnsons, as well as others such as Perkins, Dials and Goins, were members of a Southwest Louisiana group known as Redbones. The Redbones are a dark-skinned people with European features who emigrated from the Pee Dee region of South Carolina to South Louisiana about 1810. The racial makeup of the Redbones is very controversial, and some assert that they have some African ancestry. It is almost certain that they are of primarily European origins with bloodlines heavily influenced by the American Indians of the Southeast United States.
The Redbones brought their cattle culture with them from Southern Louisiana to Angelina County, probably along the Opelousas Trail, and University of Texas geographer Terry Jordan credits the Redbones as inventing the Texas cattle industry in Louisiana and bringing it to Texas. James Ashworth's brother, Aaron, was an early settler in the Orange area and supplied beeves to feed Sam Houston's army. Later some of the Ashworths and Perkins moved on to South Texas where they helped pioneer cattle operations in that area and probably participated in the early cattle drives to Missouri and Kansas shortly after the Civil War.

Most of the Ashworths eventually migrated to Trinity County, but a few remnants of the family remained in the Burke area until the mid-20th Century. During the 1950s one family with the Ashworth surname still lived in Burke. The Webmaster is a descendant of James and Mary Ashworth via their daughter Mary Vianna who married Patrick Johnson. Patrick and Vinie's daughter Mary Jane married Maston Landrum, and they were early members of the Ryan Chapel Methodist Church. Both are buried at Ryan Chapel Cemetery.
James J. Ashworth, Jr.
James J. Ashworth, Jr. married his cousin, Sophia Ashworth, and they lived at Pine Valley in 1850. By 1860 they had followed the developing cattle industry to South Texas and lived in Nueces County. By 1880 they had returned to East Texas and resided in Walker County. Their son Marion T. Ashworth returned to Burke by 1910.
Marion Thomas Ashworth
Marion Thomas Ashworth (1880-1962), son of James J. Ashworth, Jr., married Jeanie McKinney (1885-1991) and they had the following children:
Velma (1913-????)
James Hollis (1914-????), who married Bennie Curry McCall
Marion Finis (1815-????)
Emsley (1918-????)
Curtis (1921-????)
Garland (1922-????)
Marion and Jeanie Ashworth are buried at the Garden of Memories Cemetery near Lufkin.
Sources:
1850 Census, Angelina County, Beat B, Page 4
1860 Census, Angelina County, 2nd District, Page 14
1870 Census, Angelina County, Pennington Post Office, Page 12
1920 Census, Angelina County, Precinct 4, Page 8, Dwelling 77 (Marion Ashworth)
1930 Census, Angelina County, Precinct 4, Page 17, Dwelling 191 (Marian Ashworth)
1910 Census, Angelina County, Precinct 4, Page 29, Dwelling 284 (Manda E. Roberts/Marion Ashworth)
Handbook of Texas Online, "Aaron Ashworth"