Guinn Family
The Guinns were major early landowners in the Burke area, including most of the area that became the town of Burke.
James Washington Guinn
James Washinton Guinn was the partriarch of the Guinn family and a leading political figure in early Angelina County. It is not clear whether he ever lived on the Guinn land near Burke. In 1860 he and his family resided at Homer. That would have made professional sense since James was listed as an "LLD', a Doctor or Legal Letters, i. e., a lawyer. He was also heavily involved in politics, which would have been centered at Homer, the county seat.
The following biography is from the Texas State Cemetery:
GUINN, JAMES WASHINGTON (1804 - 1866) James Washington Guinn, member of the Texas House of Representatives and Texas Senate, was born June 11, 1804, in Greene County, Tennessee to John and Rachael Shields Guinn. On February 2, 1830, James Washington Guinn and Catherine Ann Dobson were married in Macon County, North Carolina. Andrew Johnson, tailor of Greenville, Greene County, Tennessee, and later President of the United States, made the coat that Guinn wore to his wedding to Dobson. Catherine Ann Dobson was born February 2, 1812. She was the daughter of John Dobson and Nancy Parks Dobson. Catherine was a physician. Family tradition tells that slaves accidentally poisoned Catherine, while on call to deliver a baby. Catherine Ann Dobson Guinn died in Homer, Angelina County, Texas on March 3, 1865, and is buried in the Homer Cemetery, Homer, Texas.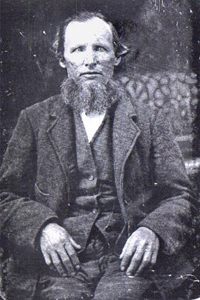 James Washington Guinn
Guinn studied law and was admitted to the bar in Tennessee in 1827, North Carolina in 1828, and Georgia in 1832. In North Carolina in 1832, James W. Guinn was elected Solicitor and in 1835 he represented Macon County as a delegate to the Constitutional Convention at Raleigh. He moved to Fish Head Valley, Alabama November 19, 1841, and to Wedowee, Alabama in 1843. He was elected Judge of County or Orphans Court in 1846 in Randolph County, Alabama and held this office until May 23, 1850, when the court was abolished.
In 1858 Guinn moved to Cherokee County, Texas, where his brother, Robert Henry Guinn, was a lawyer in Rusk, Texas. On January 29, 1859, Guinn moved to Angelina County, Texas, where he and his family show up on the 1860 Federal Census and his occupation is listed as a lawyer. In November 1859, Guinn, with others, was appointed to a committee to consider the relative cost of a brick courthouse in Homer.
In 1861, he was commissioned a Notary Public in Angelina County and in 1863 was elected to represent the counties of Nacogdoches and Angelina in the Texas House of Representatives after receiving one hundred and ten votes. In 1866 he won a seat in the senate with three hundred seventy-nine votes.
While serving in the Senate, Guinn died at the residence of N. C. Raymond August 27, 1866, after a few days illness with Cholera. His remains were buried in the Texas State Cemetery on September 18, 1866.
in 1861 James Guinn was elected as one of three Cooperationist (anti-secessionist) delegates to the state secessoin convention. Angelina County was the only county outside the German Hill Country that voted against secession. Despite James' opposition to secession, two of his sons served in the Confederate army.
Catherine Dobson was the daughter of Dr. Joseph Dobson and Nancy Ann Parks.
James and Catherine had the following children: John A B, (1830); Josephine L. (1832); Washington Leonidas Hannibal (1833); Harriet (1835); James K (1836); Catherine (1837); Henry M. (1842); and Jacob Helfin Polk "Simon" (1847). All were born in North Carolina except Henry and Jacob. Simon was a farmer at Zavalla and is buried at Old Homer Cemetery.
Leonidas Hannibal Washington (Lee) Guinn
Leonidas was born about 1833 in North Carolina, but in 1843 the Guinns moved to Wedowee in Randolph County, Alabama, where they lived in 1850. In 1855 L.H.W. Guinn is listed as Postmaster of Wedowee, Randolph Co, AL for 1 quarter.
Leonidas Guinn first married Elizabeth V. (Lizzie) Clifton about 1857. She was born in 1840 in Georgia and was the daughter of Clemeth Floyd Clifton and Nancy Jackson Clifton. They had a daughter Nannie born in 1861 and were reported to have a son Robert.
In 1865 Guinn married Sarah Elizabeth (Sallie) Gann, daughter of John Delaney and Malinda Arnold Gann.
Leonidas moved to Angelina Çounty before the Civil War along wth his father James Washington. In 1860 Lewis H. W. Guinn, presumably Leonidas, lived 2 residences from James Ashworth, which places him in the area that became Ryan Chapel. He owned real estate worth $4490, which is about $92,000 in 2005 dollars. If we owned 540 acres, land would have been selling for about $8 per acre.
Leonidas (Lee) Guinn is said to have owned 5000 acres in Angelina County. Their land stretched from the town of Burke to Pine Valley.
According to the historical marker at Ryan Chapel Methodist Church, "L. H. D. and Sallie Guinn gave 7.5 acres for church and cemetery." The church had been mistakenly situated on Guinn land, and the Guinns were kind enough to correct the error by donating the land.
Presumably Lizzie died during the Civil War since Lee married Sarah Elizabeth (Sallie) Gann in 1865 in Angelina County. She was the daughter of John Delaney Gann, and granddaughter of William Gann and Ruth Delaney, all pioneering Angelina County families.
In 1870 Lee Guinn still lived in Angelina County. In his household was daughter Nannie.
Leonidas Guinn died in 1874. After Leonidas' death, Sarah married several more times, but she told her great-granddaughter, Frances Chambers Delaney, that Lee Guinn was her true love when the visited his grave together.
Leonidas' daughter, Nannie, who married Harvey Belote, inherited 540 acres in the heart of what later became the town of Burke.
Sources:
1850 Census, Randolph County, Alabama, Wedowee Beat No. 1, Dwelling 1 (James W. Guinn)
1860 Census, Angelina Co., Texas, Page 19, Second District, Dwelling 321 (James W. Guinn)
1860 Census, Angelina County, Texas, Page 14, Dwelling 289 (Lewis H. W. Guinn)
1870 Census, Angelina County, Texas, Page 5, Dwelling 29 (Lee Guinn)
Texas State Cemetery web site, http://www.cemetery.state.tx.us/pub/user_form.asp?step=1&pers_id=74
Southwestern Historical Quarterly web site, http://www.tsha.utexas.edu/publications/journals/shq/online/v023/n4/contrib_DIVL3573.html
Belote Genealogy
Uba Lee (Tuey) McCarty Davis, Personal Recollections
Ancestry GenForum, Guinn Family