Burke School Teachers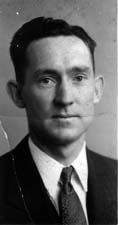 Gladys Dubose
George Washington Largent, Jr.
John Dearmond Burrous
Elma Fairchild, wife of C. B. Fairchild, was principal and taught 7th and 8th grades in the late 1940s and early 1950s. She was a stern disciplinarian, wielding a large "board of eduction" and was feared by the students.
John Copeland was principal and teacher until 1942. He later served as mayor of Burke.
Miss Tennie Havard taught 1st and 2nd grade from the 1930s to the 1960s. She two and three generations of children, including both the author and his mother.
Ola Johnston, daughter of Dr. Wade H. Johnston, taught at Burke High School in 1912. She previously taught at Pine Valley School.

Mattie McCall Kinsolving



Sally Treadwell Pigford was a teacher in the 1930's. She was a membet of the pioneering Treadwell family and sister to Roy Treadwell. Mrs. Pigford later taught in the Houston area.
Emmit Samford was a teacher before the Second World War. After the War he married a French citizen and lived much of his adult years in France.
Mrs. Smith taught 3rd grade in the late 1940s.
Johnny Earsel (Jim) Travis was principal in the 1930s and again the late 1960s when he also taught 7th and 8th grades. He taught math and 6th grade in the 1950's.
Abbie Travis, wife of J. E., taught 3rd grade and language arts in the 1950s.
Miss Turner taught 6th grade in the late 1940s.
Nell Walker taught 4th anf 5th grades durig the 1950s.
Other teachers in the late 30's and 40's included J. E. Travis and Emmett Samford.
Teachers in 1900 Census in Burke area
Eva McCall - daughter of Daniel McCall and sister of Ina McCall
Mattie McCall - daughter of Daniel McCall and sister of Ina McCall
Gee McCall - son of Daniel McCall and brother of Ina McCall
Hollis Glass
William Boykin
Pearl E. Brooke
I. D. Fairchild - son of James Monroe and Florida Hardin Fairchild and later became a lawyer and served in the the Texas legislature
Mrs. Thomas Spivey (name unreadable on census)
Robby Stovall
Pete M. Albritton
Ira J. Albritton
Oscar Davidson - also a Baptist minister
Eb Ellis
It is not clear that all were actually teaching at the time or that they taught at Burke School.
Teachers in the 1950's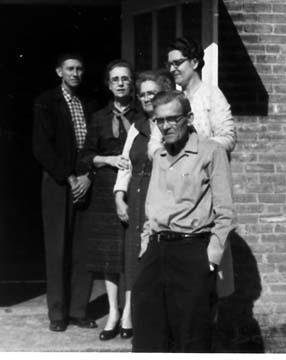 Burke teachers in 1960. (front to back in he photo to the right) J. E. (Jim) Travis, 6th grade and math; Abby Travis, 3rd grade and language; Tennie Havard, 1st and 2nd grades; Nell Walker, 4th and 5th grades; Alton P. Hart, principal and 7th and 8th grades. The principal before Mr. Hart was Alma Fairchild. Jim Travis became principal the year after this picture was taken. At that time Mrs. Travis took over 6th grade, and Miss Cindy Mattox became 3rd grade teacher.
Abbie Travis was a very influential teacher who introduced the grammar to the kids. Her lessons in sentence outlining were invaluable.
Nell Walker was a sophisticated woman from Lufkin who taught the country students a taste of life beyond the dirt roads and farms. She taught the kids a few phrases in French. She also sponsored the 4th and 5th grade club that taught students the rudiments of conducting a meeting. At the time the webmaster's family did not have a home telephone; and when he travelled to Lufkin with his partent on Saturdays to shop, he would call Mrs. Walker from the pay telephone at Safeway. She graciously spoke as long as he wanted.
J. E. (Jim) Travis specialized in math.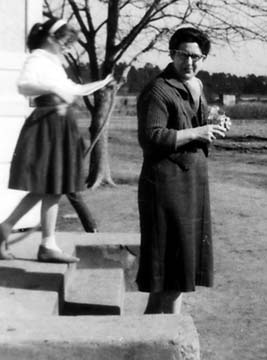 Abby Travis caught with a
carton of milk in 1960. The girl
behind her may be Faye Rose.
Her words to the author directly
after the photo were "Oh, Mac!"

Every day two ladies, Wilma Kaiser and Katherine Lee, from the community would come to the school and cook a hot lunch. We did not think very highly of the meals at the time, but in retrospect they were wonderful.
Sources:
M. Lee Murrah, Personal Photograhps and Recollections