Waltman Family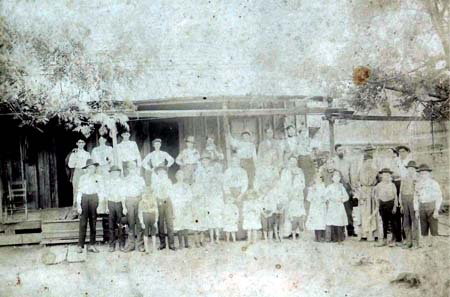 Walt Waltman family.
The Waltmans descent from Isaac and Ellender (Ellen) Waltman of Lawrence County, Mississippi.
Isaac Waltman
Isaac Waltman was born in 1816 in Louisiana, and Ellender in 1822 in Mississippi. In 1850 the family resided in Lawrence Co., Mississippi, but by 1860 they were at Woodville in Tyler County, Texas, where they remained through 1870.
By 1880 Isaac and Ellen were living at Pine Valley. By 1900 they appear to have died, but Will and his wife Emma M.(1861) were still living at Pine Valley.. Will was a farmer and Emily a "dairywoman."
Isaac and Ellender had the following children:
Jefferson (1840/42)
M. (1844) , a daughter
Ann (1847)
Sarah (1849)
Candace(1849)
M. (1851), a daughter
R. J. (1854), a daughter
James 1854)
Jackson (1856)
Thomas Franklin (1858)
William E. (1858)
The children's names are confusing on the census schedules, and the foregoing list may have duplications or omissions..
Will Waltman
William E. (Will) Waltman was born in Tyler Co., Texas in 1861 but moved to Angelina County with his family in the 1870s. He married Emily, and they had the following children:
James Walter (Walt)(1890 )
Henry Lee (1901).
Lee and Walt Waltman
By 1910 the Waltmans had moved to Burke. By 1920 both Lee and Walt were retail merchants at Burke.
In 1920 Lee Waltman and his wife Myrtle (1903) had a son James (1918) and lived on the Diboll Highway. Myrtle later operated a washateria at Diboll in th e1960s. Walt and his wife Icie lived next door to Lee. They had sons Cleveland (1915) and Allen 1916).
Sources:
1850 Census, Lawrence County, Mississippi, Page 48, Dwelling 346 (Isaac Waltmoon)
1860 Census, Tyler County, Texas, Page 85, Dwelling 553 (I. Waltman)
1870 Census, Tyler County, Texas, Page 32, Dwelling 195 (Isaac Waltman)
1880 Census, Angelina county, Texas, Precinct 1, Page 13, Dwelling 115 (Isaac Waltman)
1900 Census, Angelina County, Texas, Precinct 4, Page 7, Dwelling 63 (Will Waltman)
1920 Census, Angelina County, Texas, Precinct 4, Page 4, Dwelling 38 (Lee Waltman)
1920 Census, Angelina County, Texas, Precinct 4, Page 4, Dwelling 39 (James W. Waltman)
M. Lee Murrah, Personal recollections