Johnston Family
"Biography of Dr. W. H. Johnston and Family" by Ola Johnston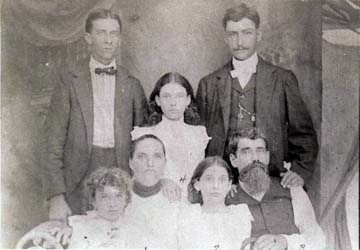 Quintora and Wade Johnston with Joe
(front row) and Ola (standing center) -
rest unidentified.
Wade Hampton Johnston was born Aug. 24, 1851 in Alexandria, La. He was the second child of James Augustus Johnston (born May 8, 1832 in Georgia).
Wade Hampton's family moved from Louisiana to Texas during the Civil War and operated [sic] a grist mill on Big Sandy Creek in Polk Co. His father was conscripted by the government to grind corn and wheat to supply meal and wheat flour for the wives and children of the soldiers who were fighting in the war.
On Sept. 17, 1875 Wade Hampton married Elizabeth R. Thompson. They had two children, a daughter Daisy (died young) [ed. abt 1878]and a son Albert Hampton (born Nov. 4, 1879-Died Oct. 23, 1958).
The 1880 Houston Co. census listed Wade Hampton as a farmer and dentist. His wife Elizabeth died. In 1887 he moved to Burke, Tex., a prosperous new town in Angelina Co. where he practiced dentistry and repaired clocks.
On Sept. 8, 1889, Wade Hampton married Quintorah M. Mann, daughter of James Richard and Mary Mann of Homer, TX. They moved to Groveton in Trinity Co. Born to them were two daughters, Ola (born Dec. 14, 1891) and Joe (born April 4, 1893) while in Groveton.
The family moved back to Burke, TX in 1897 where Wade Hampton practiced dentistry for 30 years. He died Jan. 24, 1927. His wife Quintorah moved to Denton, TX to live with her daughters Ola and Joe Johnston where she died Mar. 1, 1941. Wade Hampton and Quintorah are buried at Glendale Cemetery in Lufkin, TX.
Ola Johnston's first teaching experience was at Burke Pine Valley School. In 1912 she taught at Burke High School. She taught at several other schools and in 1927 she was offered a position at North Texas State Teachers College, where she finished her teaching career in 1962. Going to school in summers she obtained a PhD degree from the Univ. of Texas in 1933 and awarded Phi Beta Kappa. She lived in Denton until her death in 1982.
Joe Johnston after finishing Burke school entered Sam Houston Normal Institute at Huntsville where she was awarded a teaching certificate. She taught at Central Ward Elementary School in Lufkin 1920 to 1926. She then entered North Texas State Teachers College where she earned a BA and MA degree. From 1929-1958 she taught in the Primary Dept. of Amarillo TX public school system. She returned to Denton, TX to make her home with her sister Ola. Joe died May 15, 1986 in Denton. Ola and Joe are buried in Glendale Cemetery at Lufkin beside their parents.
Albert Hampton Johnston married Oct 1901 Naomi Elizabeth Selman daughter of Andrew Jackson Selman and Mary Jane Jagar Selman. They had two sons William Hampton born Sept. 16, 1903 in Belot - Houston Co., TX and Wade Gordon born Oct. 18, 1904. Albert Hampton died Oct. 23, 1958 - buried in Lake Charles, La. Naomi died Apr. 12, 1975 in Cincinnati, Ohio.
Sources:
1880 Census, Houston Co., Texas, Beat No. 2, Page 26, Residence 216 (W. A. Johnston)
Ola Johnston, "Biography of Dr. W. H. Johnston and Family" (unpublished)