Harris Family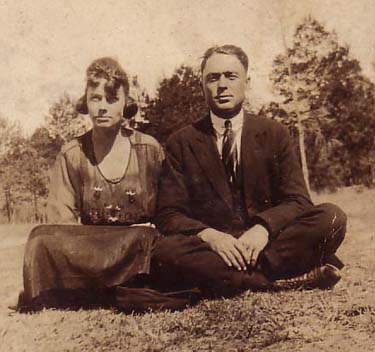 Etta Warner and Wesley K. Harris
William John Harris
The Harris family descends from William John and Sarah Ellen Snyder Harris.
Wesley K. Harris
Wesley was born in Missouri in 1892 and married Fannie Etta Warner (1899), daughter of William George Washington Warner and Ann Lawrence Ryan. Ann was a daugher of Ryan Chapel co-founder, John Ira Ryan.
The Harris family lived on a farm east of Ryan Chapel Methodist Church.
Fannie and Etta had two children:
Lyndal K. (1922), who married Clarcie Conner
Wilbern (1924)
Sources:
1920 Census, Angelina Co., TX, Precinct 4, Page 27, Dwelling 295 (boarding with Maggie J. Kinsolving)
1930 Census, Angelina Co., TX, Precinct 4, Page 10-11, Dwelling 132 (Wesley H. Harris)
Lyndal K Harris, Personal Recollections
M. Lee Murrah, Personal Recollections